I posted this elsewhere but thought I'd follow up in this forum. I changed my mind, due to my printer not working very well last week, and printed my original design for Stan to sign. I Photoshopped eight of his first works around his face.
Fantastic 4 #1
Amazing Fantasy #15 (first appearance of Spider-man)
The Avengers #1
Hulk #1
X-Men #1
Daredevil #1
Tales of Suspense #39 (first appearance of Iron Man)
and of course the first "Super Hero" comic he wrote when he got his job, Captain America #3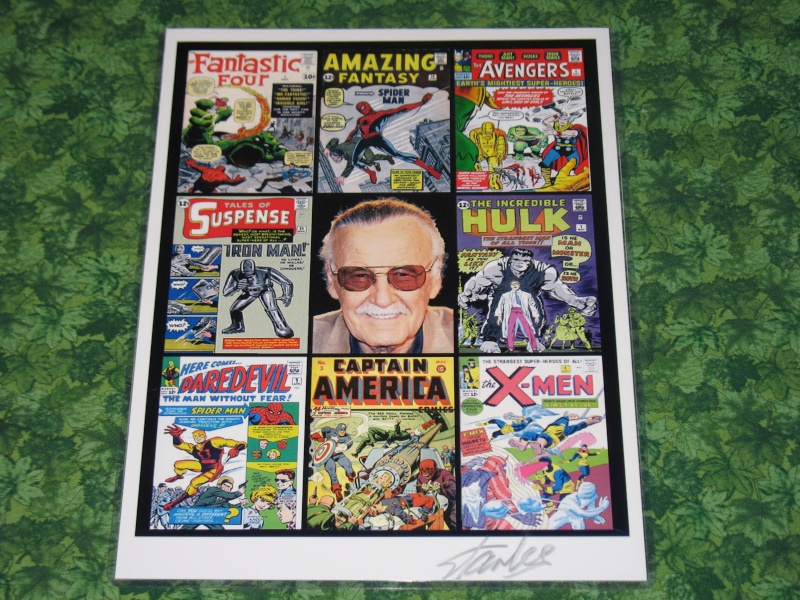 He was pretty excited when he saw it. He signed it and then they grabbed it from him (the handlers were in a hurry again) but he grabbed it back and said "Hey, I haven't seen that one yet!" He checked it out for a few and then handed it back. My wife got her She-Hulk #1 signed. My son gave him a sketch card he drew with Venom and Doc Oc on it and Stan was really nice and talked to him for a minute about it. He is a really a great guy, I just wish I could hang out with him a little longer than what they allow. Anyway, it's a great piece for my autograph collection!
I also got a couple of things signed by Jim Starlin, big time comic book artist. He was really cool too. A couple of these guys had ipads set up on their tables and they were showing all of their work as a flash slideshow. Very cool.
Another cool thing they had going there was a home movie of Jack Kirby being interviewed. That guy had a rough childhood, man! It was pretty cool to watch that and get to know the guy who basically designed most of my favorite super heroes. Especially since I'll never get to meet him.
Jack Kirby (August 28, 1917 – February 6, 1994)
You can see the rest of my Detroit Fanfare photos HERE!