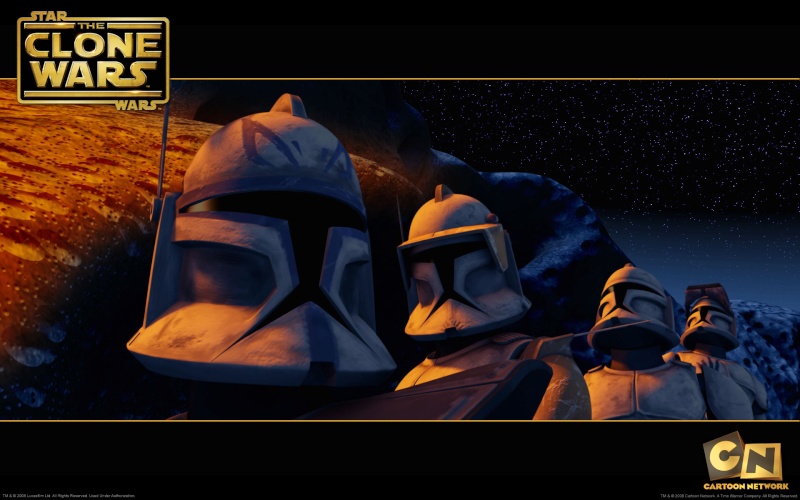 I have been researching this and figuring it out since there are prequel episodes to some of the earlier shows and even the feature film. I am trying to edit the episodes together to play as full length movies the best I can and then I will make discs.
I thought I would throw the timeline out there in case anyone needs it because it is basically nowhere on the web except maybe one blog I found. A few people started this back in season three and I picked up where they left off. This kind of bunches episodes together by characters, events and planets, etc. It may not be the actual "timeline" of events but it places the episodes in the correct viewing order and puts all of the sequels, prequels, duologies, trilogies, tetrologies and pentalogies together, phew!.
Dave Filoni said the rest of the show should go in chronological order because they've updated Ahsoka, Anakin, and Obi-Wan's characters and won't be going backwards in time anymore. So season four is straight forward I guess.
I will give a guy named Jim credit for this actual list. I had most of the same thing down but he found a couple of things and tweaked it. Thanks, Jim!
2.16 – Cat and Mouse
1.16 – The Hidden Enemy
1.00 – TCW Feature Film
1.02 – Rising Malevolence
1.03 – Shadow of Malevolence
1.04 – Destroy Malevolence
3.01 – Clone Cadets
1.05 – Rookies
3.02 – ARC Troopers
1.06 – Downfall of a Droid
1.07 – Duel of the Droids
1.08 – Bombad Jedi
1.09 – Cloak of Darkness
1.10 – Lair of Grievous
1.11 – Dooku Captured
1.12 – The Gungan General
1.13 – Jedi Crash
1.14 – Defenders of Peace
1.15 – Trespass
3.04 – Sphere of Influence
1.17 – Blue Shadow Virus
1.18 – Mystery of a Thousand Moons
3.03 – Supply Lines
1.01 – Ambush
1.19 – Storm over Ryloth
1.20 – Innocents of Ryloth
1.21 – Liberty on Ryloth
2.04 – Senate Spy
2.05 – Landing at Point Rain
2.06 – Weapons Factory
2.07 – Legacy of Terror
2.08 – Brain Invaders
2.09 – Grievous Intrigue
2.10 – The Deserter
2.11 – Lightsaber Lost
2.17 – Bounty Hunters
2.20 – Death Trap
2.21 – R2-D2 Come Home
2.22 – Lethal Trackdown
2.12 – The Mandalore Plot
2.13 – Voyage of Temptation
2.14 – Duchess of Mandalore
3.05 – Corruption
3.06 – The Academy (leads to 3.07)
3.07 – Assassin (reference to 1.00 and 2.22, and leads to 3.08)
3.08 – Evil Plans
1.22 – Hostage Crisis (the assassin from 3.07 must have escaped somehow)
3.09 – Hunt for Ziro
2.01 – The Holocron Heist
2.02 – Cargo of Doom
2.03 – Children of the Force
2.18 – Zillo Beast
2.19 – The Zillo Beast Strikes Back
3.10 – Heroes on Both Sides
3.11 – Pursuit of Peace
2.15 – Senate Murders
3.12 – Nightsisters
3.13 – Monster
3.14 – Witches of the Mist
3.15 – Overlords
3.16 – Altar of Mortis
3.17 – Ghosts of Mortis
3.18 – The Citadel
3.19 – Counterattack
3.20 – Citadel Rescue
3.21 – Padawan Lost
3.22 – Wookiee Hunt