Up for review is the latest incarnation of the Clone Wars Captain Rex.
This version of Captain Rex was released as the 62nd figure in the 11th wave of 2011.
The package contains Rex, helmet, blue ARC pauldron, 2 DC-17 hand blasters, 1 DC-17 hand blaster with extended barrel, jetpack and harness, battle die, battle card, figure stand, and a clone wars adventures certificate.

Rex's body is a modified Commander Stone body. This version has ball hinged hips. Unlike previous versions of Rex, this one has a soft goods kama which allows for a full range of motion through the ball hinged hips. Unfortunately the lack of ankle articulation limits poses. The shoulder has ball hinged joints but the solid shoulder pads limits range of motion. The holsters on the side are functional allowing for storage of the matched DC-17 hand blasters.
The foot holes for this figure are located in the heels, allowing for deeper holes that actually fit with the figure stand.
There's a mystery hole in the back of the figure. The jetpack and harness fit over the figure and do not plug into this hole.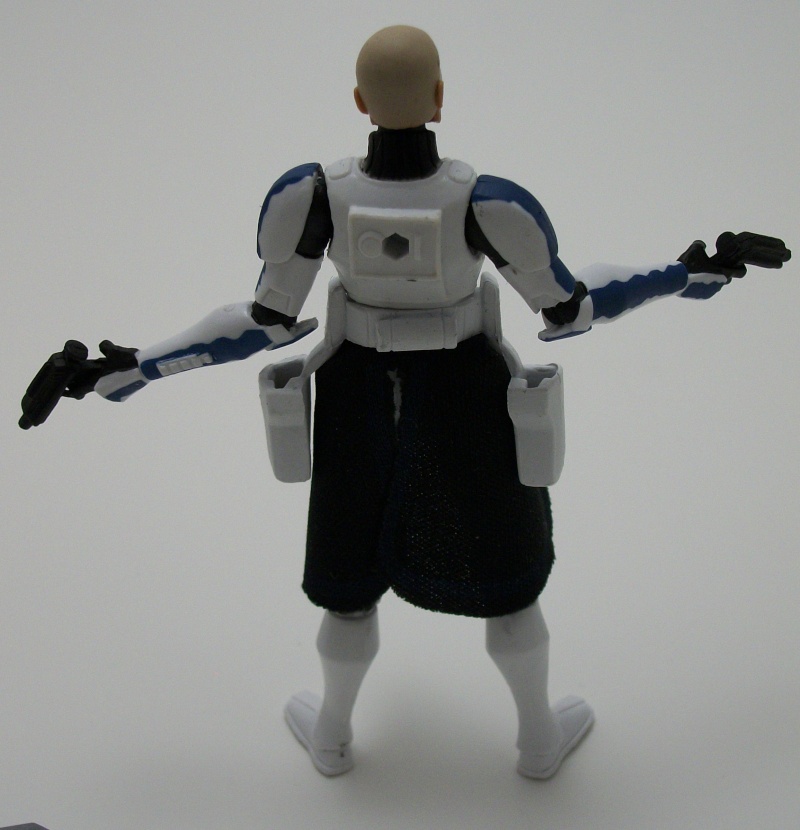 The jetpack and harness fit over the figure and connect to each other through a series of pegs and holes. The jetpack has two blasters on tip that can swivel up and down. The harness has a holster to hold the DC-17 hand blaster with the extended barrel.


Here is Rex geared up, front and back views.